Harvest One Announces Supply Agreement with Shoppers Drug Mart Launch of Satipharm branded cannabis in Canada
March 18, 2019 – Vancouver, British Columbia – Harvest One Cannabis Inc. ("Harvest One" or the "Company") (TSXV: HVT; OTCQX: HRVOF), through it's wholly-owned subsidiary United Greeneries Ltd. ("United Greeneries") today announced that it has entered into an agreement to become a medical cannabis supplier to Shoppers Drug Mart.
Under the terms of the agreement, Harvest One will supply Shoppers Drug Mart with Satipharm branded medical cannabis products. The products will be sold online, as Canadian regulations restrict the sale of medical cannabis in retail pharmacies.
This marks the first time that Satipharm branded cannabis will be available for purchase. Working in conjunction with Shoppers Drug Mart in an effort to help consumers make specific, educated decisions about their purchases, Satipharm will be available in a continuum of products, each colour coded to indicate their place on the progression from the high THC of SatiWhite™ to the high CBD of SatiPurple™. At launch, United Greeneries will produce and ship an Indica variety of SatiSilver™ and a hybrid variety of SatiGreen™.

"We are incredibly proud to be working with Shoppers Drug Mart to supply them with our premium, indoor grown cannabis under the Satipharm health and wellness brand" said Grant Froese, CEO of Harvest One. "We see this supply agreement as a further step towards fulfilling our vision of being a vertically integrated house of brands in the cannabis health, wellness, and self-care sector. We continue to expand our capacity to support our growing brand portfolio which includes our recently announced transaction with Delivra as well as our existing brands Dream Water, Satipharm, Royal High, and Captain's Choice" he added.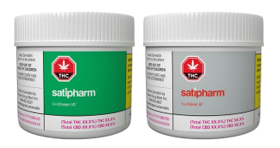 ABOUT HARVEST ONE CANNABIS INC.
Harvest One is a global cannabis company that develops and provides innovative lifestyle and wellness products to consumers and patients in regulated markets around the world. The Company's range of lifestyle solutions is designed to enhance quality of life. Shareholders have significant exposure to the entire cannabis value chain through three wholly-owned subsidiaries: United Greeneries, a Licensed Producer; Satipharm (medical and nutraceutical); and Dream Water Global (consumer), and a minority interest in Burb Cannabis (retail operations). For more information, please visit www.harvestone.com.
Cautionary Note Regarding Forward-Looking Statements
Certain statements contained in this press release constitute forward-looking information. These statements relate to future events or future performance. The use of any of the words "could", "intend", "expect", "believe", "will", "projected", "estimated" and similar expressions and statements relating to matters that are not historical facts are intended to identify forward-looking information and are based on the Company's current belief or assumptions as to the outcome and timing of such future events. Actual future results may differ materially. The forward-looking information contained in this press release is made as of the date hereof, and the Company is not obligated to update or revise any forward-looking information, whether as a result of new information, future events or otherwise, except as required by applicable securities laws. Because of the risks, uncertainties and assumptions contained herein, investors should not place undue reliance on forward-looking information. The foregoing statements expressly qualify any forward-looking information contained herein.
Neither TSX-V nor its Regulation Services Provider (as that term is defined in the policies of the TSX-V) accept responsibility for the adequacy or accuracy of this release.
For More Information:
Colin Clancy
Investor Relations
cclancy@harvestone.com
1-877-915-7934
Will Stewart
Senior Vice President, Corporate and Public Affairs
WStewart@HarvestOne.com
416-899-9422