Harvest One provides an update on Dream Water® on the occasion of World Sleep Day 2019
TORONTO, March 15, 2019 – On the occasion of World Sleep Day, Harvest One Cannabis Inc. (TSXV: HVT, OTCQX: HRVOF – "Harvest One") provides an update on its wholly owned subsidiary Dream Water including a new supply agreement with Walmart US.
The World Sleep Society is recognizing its annual World Sleep Day on March 15, 2019. With an estimated 40% of Canadians suffering from some sort of sleep disorder, Harvest One is pleased to provide the following updates on its Dream Water business.
Dream Water is an all-natural, zero calorie sleep aid currently available in 30,000 store fronts across North America. With three active ingredients (GABA, Melatonin and 5-HTP) to help individuals get a full night's sleep and wake refreshed, Dream Water is a leading option for those who have difficulty falling or staying asleep.
New Packaging
Dream Water is very excited to launch its new packaging. The new packaging will begin to rollout today and is accompanied by a new promotional video and social media tag #GoodSleepFast to promote awareness of the product. The trusted formulation remains the same in the all new look.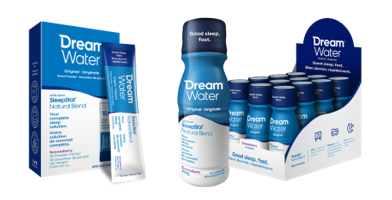 New Supply Agreements
Dream Water is pleased to announce that it has entered into supply agreements with major retailers Walmart US and Kroger which further adds to existing agreements with Shoppers Drug Mart, Loblaws, Circle K, Canadian Tire, Amazon, Hudson News, and many others across North America. These new agreements will further increase the availability of the product beyond the current the 30,000 store fronts where Dream Water is already sold.
NSF International Certified for Sport®
Dream Water is very proud to have received the NSF International Certified for Sport® designation. This certification means that specific Dream Water lots have been tested to ensure that it contains the ingredients and amounts as listed and helps athletes make safer decisions when choosing supplements with that knowledge. MLB, NHL and CFL clubs are permitted to provide and recommend only products that are Certified for Sport®. Certified for Sport® is also recommended by the NFL, PGA, LPGA, CCES, CPSDA and many other sports organizations.
New Products and Formulations
As previously announced, Harvest One is formulating a CBD version of Dream Water to be available when and where legal.
In addition to the original Dream Water sleep shot, the product is also available in powdered form as well as in new formulations such as the health and beauty product which contains collagen and biotin.
ABOUT HARVEST ONE CANNABIS INC.
Harvest One is a global cannabis company that develops and provides innovative lifestyle and wellness products to consumers and patients in regulated markets around the world. The Company's range of lifestyle solutions is designed to enhance quality of life. Shareholders have significant exposure to the entire cannabis value chain through three wholly-owned subsidiaries: United Greeneries, a Licensed Producer; Satipharm (medical and nutraceutical); and Dream Water Global (consumer), and a minority interest in Burb Cannabis (retail operations). For more information, please visit www.harvestone.com.
For more information:
Colin Clancy
Investor Relations
cclancy@harvestone.com
1-877-915-7934
Cautionary Note Regarding Forward-Looking Statements
Certain statements contained in this press release constitute forward-looking information. These statements relate to future events or future performance. The use of any of the words "could", "intend", "expect", "believe", "will", "projected", "estimated" and similar expressions and statements relating to matters that are not historical facts are intended to identify forward-looking information and are based on the Company's current belief or assumptions as to the outcome and timing of such future events. Actual future results may differ materially. The forward-looking information contained in this press release is made as of the date hereof, and the Company is not obligated to update or revise any forward-looking information, whether as a result of new information, future events or otherwise, except as required by applicable securities laws. Because of the risks, uncertainties and assumptions contained herein, investors should not place undue reliance on forward-looking information. The foregoing statements expressly qualify any forward-looking information contained herein.
Neither TSX-V nor its Regulation Services Provider (as that term is defined in the policies of the TSX-V) accept responsibility for the adequacy or accuracy of this release.