Harvest One Expands Satipharms Proprietary Gelpell Product Offerings
April 15, 2020 – Vancouver, British Columbia – Harvest One Cannabis Inc. ("Harvest One" or the "Company") (TSX-V: HVT; OTCQX: HRVOF) is pleased to announce its wholly-owned subsidiary Satipharm Ltd. ("Satipharm") has expanded its product offerings to include two new variants of its unique proprietary CBD Gelpell® product, further enhancing its product portfolio currently on sale in major retailers and pharmacy chains throughout the United Kingdom and Ireland.
Satipharm CBD Advanced Range
The new Satipharm CBD Advanced range products combine CBD with specifically selected vitamins in the Company's proprietary Gelpell® capsules. The Satipharm CBD Advanced range uses the Company's patented Gelpell® technology to deliver CBD in seamless microbeads that are clinically proven to increase bioavailability. The new Advanced range offers two variants, Focus and Active, designed to address specific consumer's needs.
Active: Satipharm CBD Advanced Active combines CBD with vitamins A, D, E and K to support general body health and movement while using the proprietary Gelpell® delivery technology
Focus: Satipharm CBD Advanced Focus combines CBD with B vitamins to support mental wellbeing while using the proprietary Gelpell® delivery technology
"A differentiated product offering is key to building a successful brand, as we continue to expand our distribution with major retailers and pharmacy chains throughout the United Kingdom and Ireland," said Andy Bayfield, Chief Executive Officer of Harvest One. "These innovative new product variations, Active and Focus offer our consumers solutions to specific needs, while leveraging our proven Gelpell® delivery technology."
Satipharm's suite of products now includes its flagship product 10mg CBD Gelpell® capsule, a high strength 50mg CBD Gelpell® capsule and the CBD Advanced range Focus and Active variants. It also includes Satipharm's range of Lemon & Lime and Cinnamon flavoured CBD oils providing a differentiated market offering to satisfy a larger consumer base.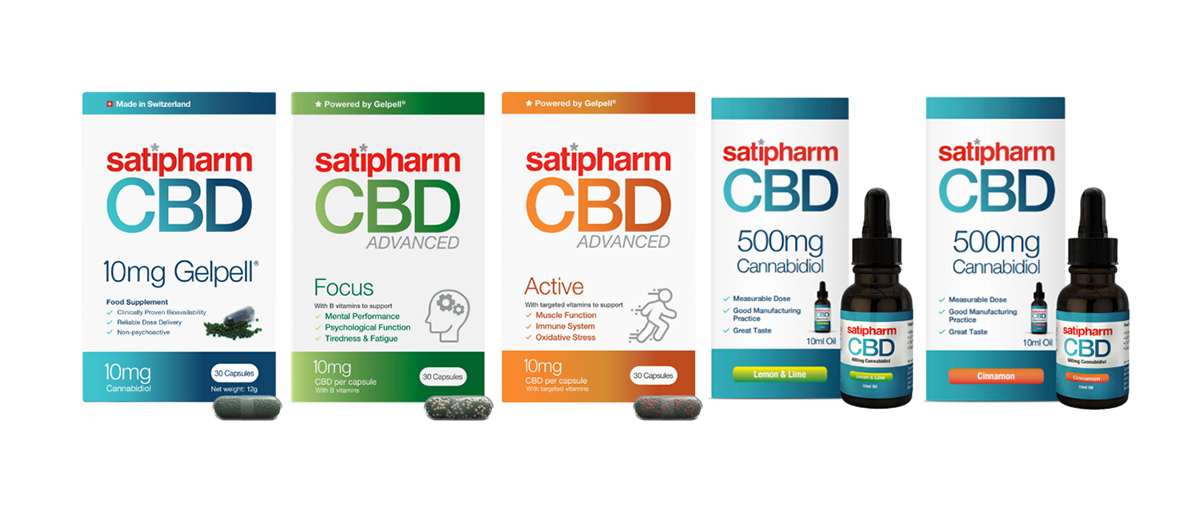 Satipharm produces a CBD capsule powered by their proprietary Gelpell® technology. These capsules take a different approach to other cannabinoid pills currently on the market. Gelpell® capsules embed the full spectrum hemp extract CBD in seamless gelatine microspheres. These tiny beads, have been clinically proven to increase the bioavailability of CBD, maximising the delivery of CBD to the body. Manufactured in Switzerland and GMP certified, every Gelpell® capsule delivers a consistent dose of cannabinoids.
Satipharm CBD Gelpell capsules have 3.5 times higher bioavailability compared to standard CBD oils. This unique product has undergone Stage I and Stage II clinical trials with the results published in two peer-reviewed international medical journals.
For further details on the clinical trials, please visit our website; https://www.harvestone.com/portfolio/satipharm/#clinical-trials.
About Harvest One
Harvest One is a global cannabis company that develops and provides innovative lifestyle and wellness products to consumers and patients in regulated markets around the world. The Company's range of lifestyle solutions is designed to enhance quality of life. Shareholders have significant exposure to a broad cannabis value chain through its wholly-owned subsidiaries: United Greeneries, a Licensed Producer; Satipharm (medical and nutraceutical); and Dream Water Global, and Delivra (consumer); as well as a controlling interest in Greenbelt Greenhouse. For more information, please visit www.harvestone.com.
Cautionary Note Regarding Forward-Looking Statements
Certain statements contained in this press release constitute forward-looking information. These statements relate to future events or future performance. The use of any of the words "could", "intend", "expect", "believe", "will", "projected", "estimated" and similar expressions and statements relating to matters that are not historical facts are intended to identify forward-looking information and are based on the Company's current belief or assumptions as to the outcome and timing of such future events. Actual future results may differ materially. The forward-looking information contained in this press release is made as of the date hereof, and the Company is not obligated to update or revise any forward-looking information, whether as a result of new information, future events or otherwise, except as required by applicable securities laws. Because of the risks, uncertainties, and assumptions contained herein, investors should not place undue reliance on forward-looking information. The foregoing statements expressly qualify any forward-looking information contained herein.
Neither TSX Venture Exchange nor its Regulation Services Provider (as that term is defined in the policies of the TSX Venture Exchange) accepts responsibility for the adequacy or accuracy of this release.